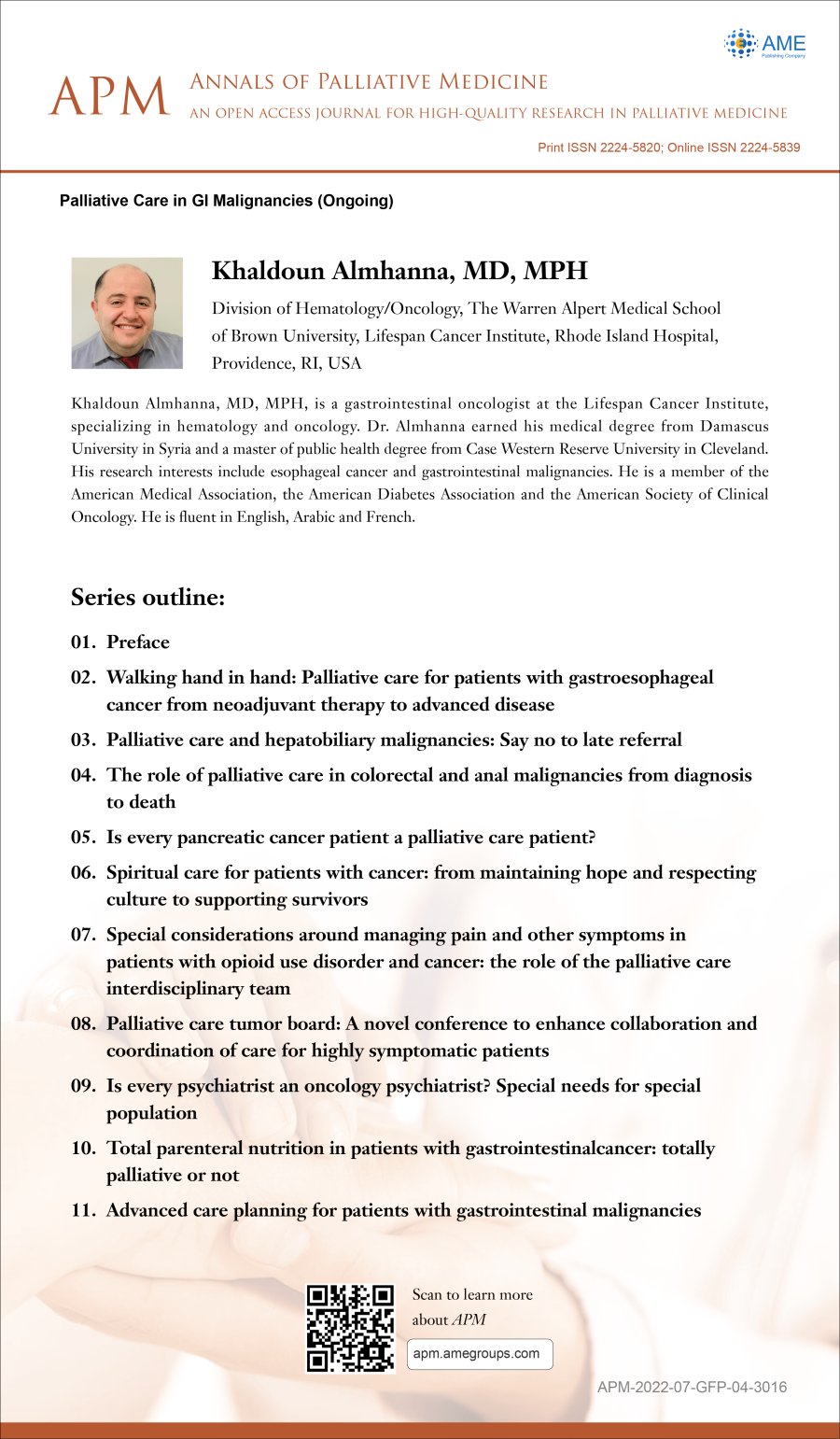 This series on "Palliative Care in GI Malignancies" is edited by Dr. Khaldoun Almhanna from Rhode Island Hospital, Providence, RI, USA.
Khaldoun Almhanna, MD, MPH
Division of Hematology/Oncology, The Warren Alpert Medical School of Brown University, Lifespan Cancer Institute, Rhode Island Hospital, Providence, RI, USA
Khaldoun Almhanna, MD, MPH, is a gastrointestinal oncologist at the Lifespan Cancer Institute, specializing in hematology and oncology. Dr. Almhanna earned his medical degree from Damascus University in Syria and a master of public health degree from Case Western Reserve University in Cleveland. His research interests include esophageal cancer and gastrointestinal malignancies. He is a member of the American Medical Association, the American Diabetes Association and the American Society of Clinical Oncology. He is fluent in English, Arabic and French.
Series outline:
Preface
Walking hand in hand: Palliative care for patients with gastroesophageal cancer from neoadjuvant therapy to advanced disease
Palliative care and hepatobiliary malignancies: Say no to late referral
The role of palliative care in colorectal and anal malignancies from diagnosis to death
Is every pancreatic cancer patient a palliative care patient?
Spiritual care for patients with cancer: from maintaining hope and respecting culture to supporting survivors
Special considerations around managing pain and other symptoms in patients with opioid use disorder and cancer: the role of the palliative care interdisciplinary team
Palliative care tumor board: A novel conference to enhance collaboration and coordination of care for highly symptomatic patients
Is every psychiatrist an oncology psychiatrist? Special needs for special population
Total parenteral nutrition in patients with gastrointestinalcancer: totally palliative or not
Advanced care planning for patients with gastrointestinal malignancies
Disclosure:
The special series "Palliative Care in GI Malignancies" was commissioned by the editorial office, Annals of Palliative Medicine without any funding or sponsorship. Khaldoun Almhanna is serving as the unpaid Guest Editor for the special series.