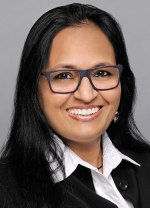 Sushma Bhatnagar
Department of Onco-Anaesthesia and Palliative Medicine, All India Institute of Medical Sciences, New Delhi, India
Dr. Sushma Bhatnagar is a Professor and Head of Anesthesiology, Pain and Palliative Care, at the Institute Rotary Cancer Hospital, All India Institute Of Medical Sciences (AIIMS) New Delhi. Her area of interest is 'Cancer Pain Management and Palliative Care'. She has 30 years of teaching and research experience. She is the founder of two new courses at AIIMS, DM in Onco-Anaesthesia  and MD in Palliative Medicine.

Prof. Sushma can be described as the real catalyst driving innovation in medical field by working towards development in the field of Pain and Palliative Care in India and in the  of developing world. At AIIMS Delhi she developed indigenous protocol and polices for managing patients at their end of life with a motto of affordable and pain free dignity to life till the end. Due to her strenuous efforts and teachings, IRCH AIIMS is a "Pain Free Cancer hospital". In spite of her busy schedule at AIIMS, she is working hard to spread similar protocol and policies all over the country. At the national level, she played a leading pivotal role in finalizing Government of India policies and protocol of Pain/Palliative Care and opioid availability and amendment to NDPS act in 2014. She is a member of the Advisory Group of the National Palliative Care Program at the Ministry of Health. She is pioneering the formulation of Palliative Care Guidelines and the National Palliative Care Training Program of the Government of India. She has also been involved with the organization of 19 international conferences in this domain.  She is working as Chief Editor of Indian Journal of Palliative care since 2009.

At the international level, she is the first Indian citizen to represent Asia-Pacific region as a Council member of International Association of Study of Pain (IASP) in 2016 for six years. This is the most coveted position to opine world policies on Pain research and management. Dr. Bhatnagar has published  more than 170 research articles in indexed journals, contributed chapters to six books and edited the book, 'Freedom from Pain' and Pain Management in Developing Countries. Recognized internationally for her work, Dr. Bhatnagar has received: Leadership and Excellence Award amongst South Asian Association for Regional Cooperation (SAARC) countries by the Cancer Aids Society; International Association for the Study of Pain (IASP) Award for Excellence in Clinical Research and Practice and Policy Changes in Pain Management in the Developing World, Distinguished Pain Physician of the country by World Institute of Pain (WPI). Her ultimate aim is to make whole of India and the developing nation's cancer pain free by taking total care of the patient in a holistic way by teaching "Humanity as a Wonder Drug".

Terms of Appointment: Jan 2013 - Jun 2019; Jul 2019 - Jun 2021