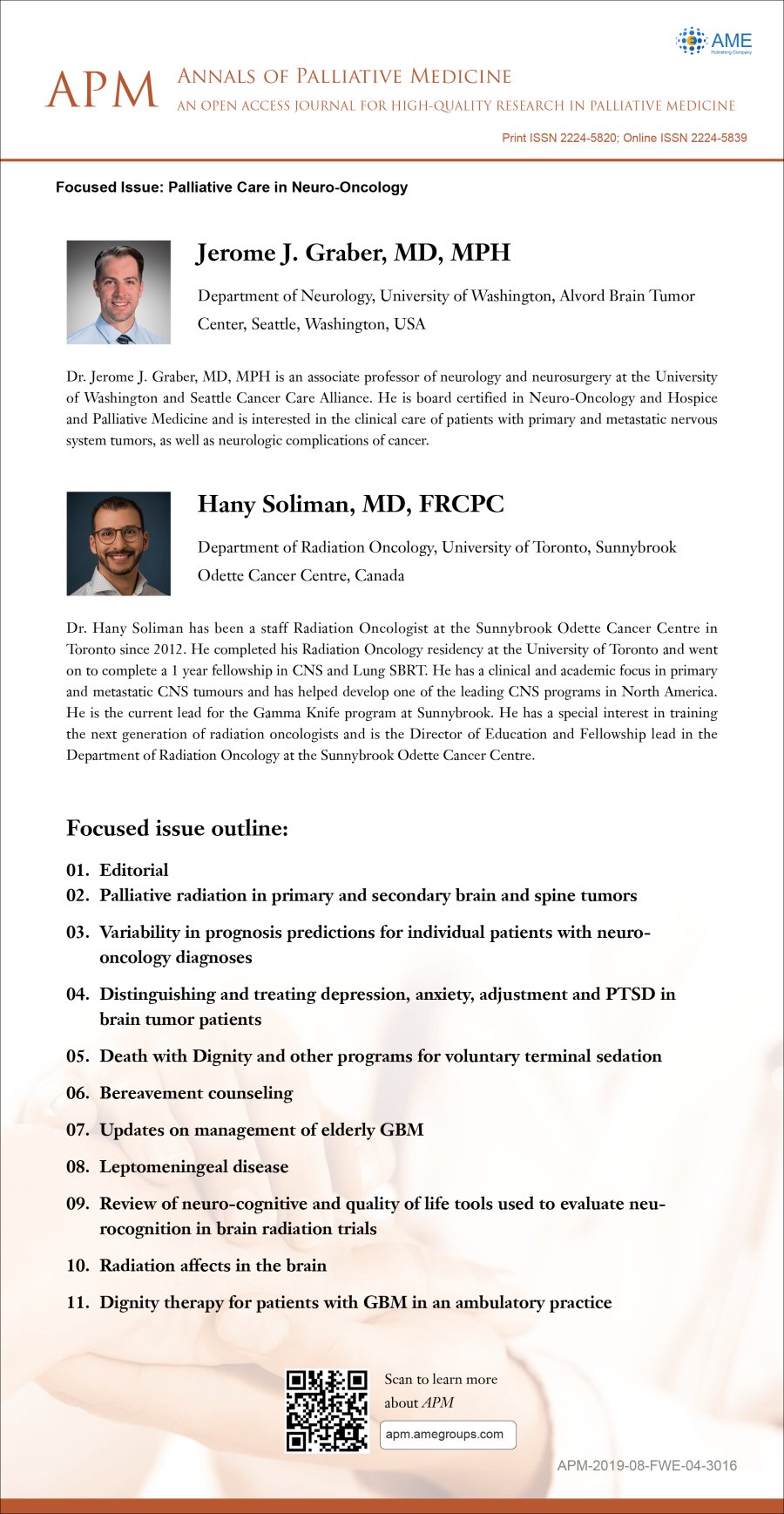 This Focused Issue on "Palliative Care in Neuro-Oncology" is edited by Dr. Jerome J. Graber, MD, MPH from Department of Neurology, University of Washington, Alvord Brain Tumor Center, Seattle, Washington, USA and Dr. Hany Soliman, MD, FRCPC from Department of Radiation Oncology, University of Toronto, Sunnybrook Odette Cancer Centre, Canada.
Dr. Jerome J. Graber, MD, MPH is an associate professor of neurology and neurosurgery at the University of Washington and Seattle Cancer Care Alliance. He is board certified in Neuro-Oncology and Hospice and Palliative Medicine and is interested in the clinical care of patients with primary and metastatic nervous system tumors, as well as neurologic complications of cancer.
Dr. Hany Soliman has been a staff Radiation Oncologist at the Sunnybrook Odette Cancer Centre in Toronto since 2012. He completed his Radiation Oncology residency at the University of Toronto and went on to complete a 1 year fellowship in CNS and Lung SBRT. He has a clinical and academic focus in primary and metastatic CNS tumours and has helped develop one of the leading CNS programs in North America. He is the current lead for the Gamma Knife program at Sunnybrook. He has a special interest in training the next generation of radiation oncologists and is the Director of Education and Fellowship lead in the Department of Radiation Oncology at the Sunnybrook Odette Cancer Centre.
Focused issue outline:
Editorial
Palliative radiation in primary and secondary brain and spine tumors
Variability in prognosis predictions for individual patients with neuro-oncology diagnoses
Distinguishing and treating depression, anxiety, adjustment and PTSD in brain tumor patients
Death with Dignity and other programs for voluntary terminal sedation
Bereavement counseling
Updates on management of elderly GBM
Leptomeningeal disease
Review of neuro-cognitive and quality of life tools used to evaluate neurocognition in brain radiation trials
Radiation affects in the brain
Dignity therapy for patients with GBM in an ambulatory practice