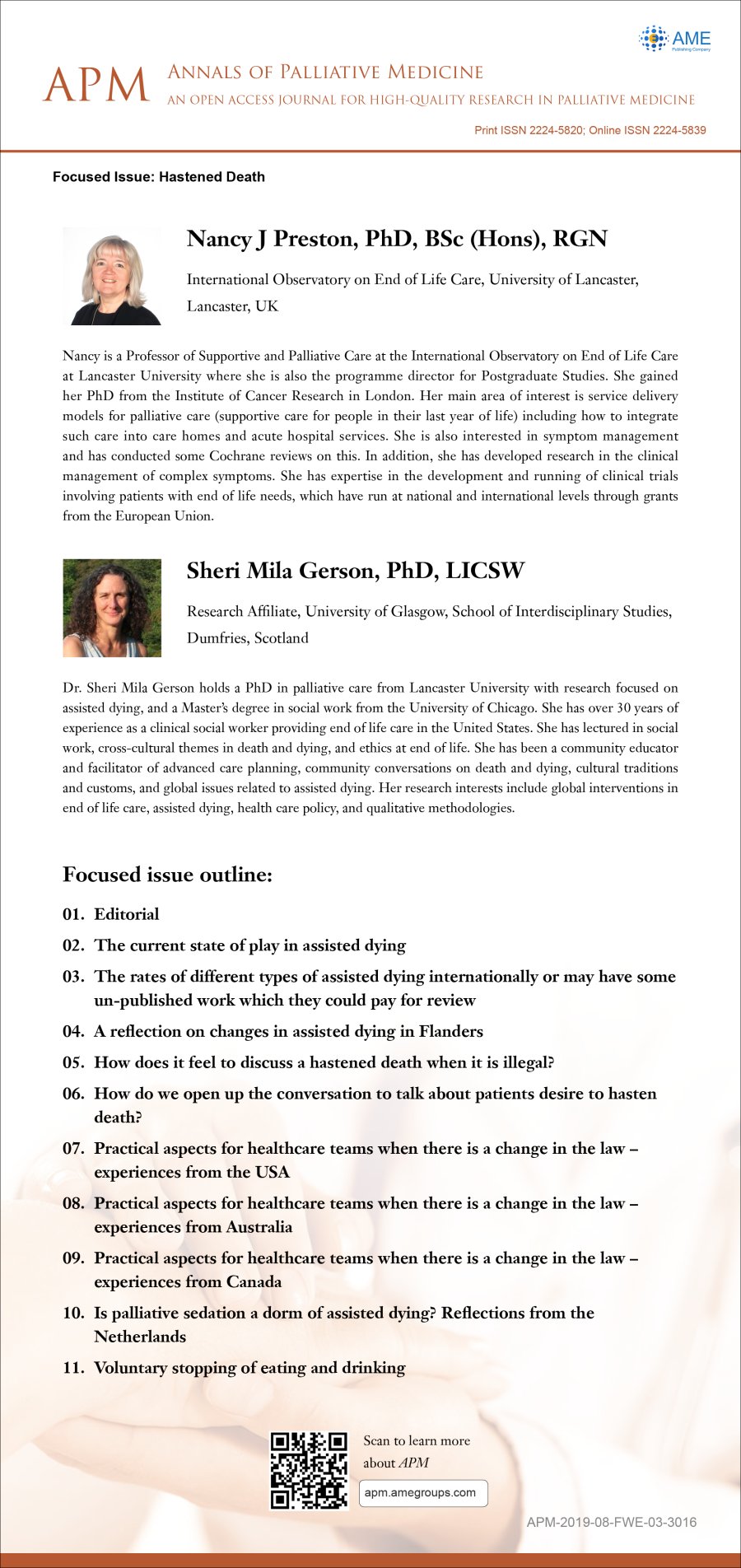 This focused issue is edited by Dr. Nancy J Preston, from International Observatory on End of Life Care, University of Lancaster, Lancaster, UK; and Dr. Sheri Mila Gerson, from Research Affiliate, University of Glasgow, School of Interdisciplinary Studies, Dumfries, Scotland.
Dr. Nancy J Preston is a Professor of Supportive and Palliative Care at the International Observatory on End of Life Care at Lancaster University where she is also the programme director for Postgraduate Studies. She gained her PhD from the Institute of Cancer Research in London. Her main area of interest is service delivery models for palliative care (supportive care for people in their last year of life) including how to integrate such care into care homes and acute hospital services. She is also interested in symptom management and has conducted some Cochrane reviews on this. In addition, she has developed research in the clinical management of complex symptoms. She has expertise in the development and running of clinical trials involving patients with end of life needs, which have run at national and international levels through grants from the European Union.
Dr Sheri Mila Gerson holds a PhD in palliative care from Lancaster University with research focused on assisted dying, and a Master's degree in social work from the University of Chicago. She has over 30 years of experience as a clinical social worker providing end of life care in the United States. She has lectured in social work, cross-cultural themes in death and dying, and ethics at end of life. She has been a community educator and facilitator of advanced care planning, community conversations on death and dying, cultural traditions and customs, and global issues related to assisted dying. Her research interests include global interventions in end of life care, assisted dying, health care policy, and qualitative methodologies.
Focused issue outline:
Editorial
The current state of play in assisted dying
The rates of different types of assisted dying internationally or may have some unpublished work which they could pay for review
A reflection on changes in assisted dying in Flanders
How does it feel to discuss a hastened death when it is illegal?
How do we open up the conversation to talk about patients desire to hasten death?
Practical aspects for healthcare teams when there is a change in the law – experiences from the USA
Practical aspects for healthcare teams when there is a change in the law – experiences from Australia
Practical aspects for healthcare teams when there is a change in the law – experiences from Canada
Is palliative sedation a dorm of assisted dying? Reflections from the Netherlands
Voluntary stopping of eating and drinking