Case Report
A case report of a post-polypectomy syndrome with severe sepsis and organ dysfunction
Introduction
Post-polypectomy syndrome (PPS) is a rare complication following endoscopic treatment. PPS is also an electrocoagulation injury of the bowel wall that induces a transmural burn and localized peritonitis (1). Patients with PPS develop abdominal pain and/or symptoms of peritoneal irritation, fever, and leukocytosis, which are similar to those of intestinal perforation, but no perforation is found on abdominal radiography (2-5). Most cases of PPS have a good prognosis. Patients with mild symptoms can be managed with outpatient treatment and rarely develop severe complications (6-8).
---
Case presentation
A 50-year-old man underwent colonoscopy which revealed 4 polyps: a laterally spreading polyp (1.2 cm × 1.0 cm) in the ascending colon near the ileocecum (Figure 1), an 8 mm wide base polyp in the hepatic flexure of the colon (Figure 2), an 8 mm pedunculated polyp and a 4 mm flat polyp in the transverse colon (Figures 3,4). The first three polyps were removed by endoscopic mucosal resection (EMR), during which submucosal normal saline injection was performed before hot snare polypectomy, and the remaining polyp was treated with argon plasma coagulation (APC). The patient was admitted to the hospital for observation. Laboratory examinations (routine blood, biochemistry, and coagulation function) were normal.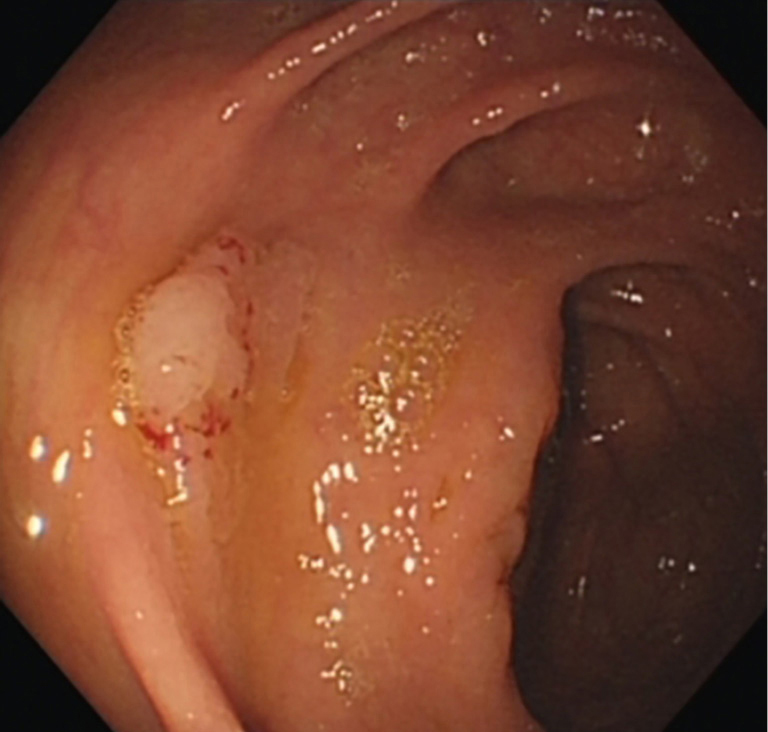 Figure 1 Colonoscopic examination showing a laterally spreading polyp in the ascending colon near the ileocecum.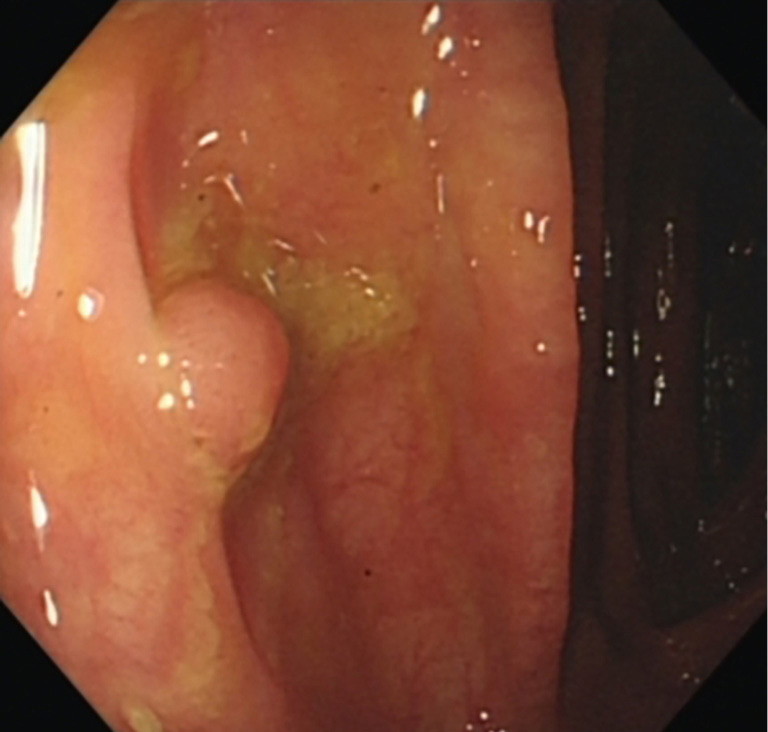 Figure 2 Colonoscopic examination showing an 8 mm wide base polyp in the hepatic flexure of the colon.
Forty-eight hours after colonoscopy, the patient suddenly developed lumbosacral pain, with high fever (39.3 °C) and chills. Physical examination of the abdomen and waist was negative. Laboratory examinations revealed a white blood cell count of 1.8×109/L, 90.3% neutrophils, a platelet count of 73×109/L, and serum procalcitonin concentration of 0.13 ng/L; blood chemistry, amylase, and C-reactive protein were within normal limits. An abdominal and lumbosacral CT scan (Figure 5) was at once performed, but evidence of intestinal perforation and significant lumbar lesions was not found. Gastrointestinal surgeon and orthopedist consultations excluded perforation, pancreatitis, cholecystitis, and lumbar disease. The patient's symptoms were attributed to post-polypectomy electrocoagulation syndrome, with subsequent gut bacterial translocation. The patient was fasted and received antibiotics (sulperazone and ornidazole) and intravenous fluids. Severe lumbosacral pain was relieved gradually.
However, 96 h after colonoscopy, the patient had severe lumbosacral pain, low blood pressure (approximately 80–86/50–56 mmHg, and mean arterial pressure 60–66 mmHg). Laboratory examinations revealed that the white blood cell count was 1.8×109/L, with 93% neutrophils, platelet count was 73×109/L, and serum creatinine was 133 µmol/L (37 µmol/L higher than 48 h before), with increased inflammation markers including high-sensitivity C-reactive protein which was 66.4 mg/L and procalcitonin which was 38.63 ng/L. Changes in coagulation functions were observed as follows: prothrombin time: 15 s, antithrombin: 57%, international normalized ratio: 1.36 R, activated partial thromboplastin time: 40.5 s. Gram-negative bacteria were detected in the blood culture. No significant differences were found in other laboratory examinations (e.g., lactate, blood gas analysis, and hepatic function studies). According to the Sepsis-3 diagnostic criteria (9), the SOFA score in this patient was 4; therefore, the patient was diagnosed with sepsis and organ dysfunction.
The broad-spectrum antibiotic, meropenem, was immediately administered, while ulinastatin, intravenous immunoglobulin, albumin, and intravenous plasma injection were used to treat severe sepsis. Two days later, Escherichia coli were identified as the pathogenic bacteria according to blood culture results. The patient's condition rapidly improved. Abdominal ultrasonography and CT scan were repeated and revealed a small number of ascites (Figure 6).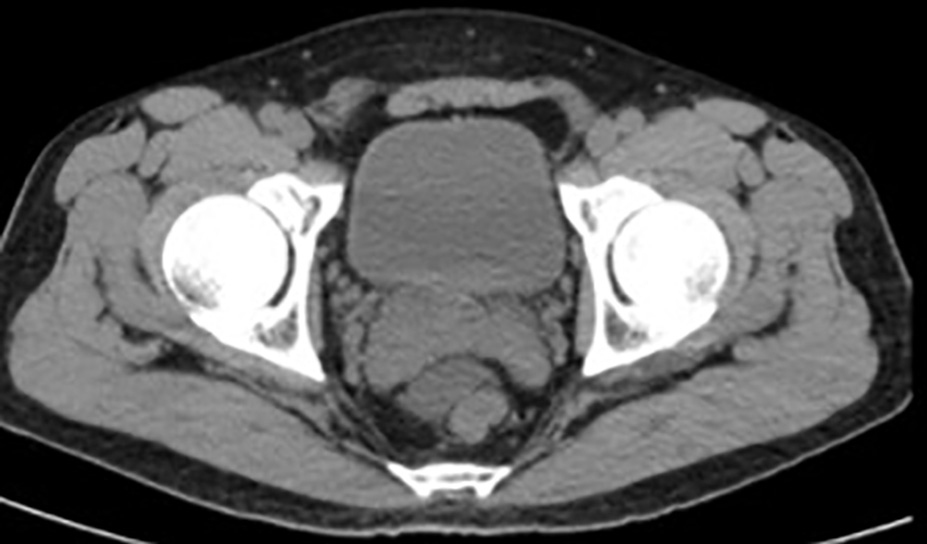 Figure 6 The second abdominal CT that is showing a small number of ascites in the pelvic cavity near the rectum slant on the right side.
---
Discussion
PPS, also known as post-polypectomy coagulation syndrome (PPCS), is a unusual complication of polypectomy electrocoagulation, which may cause hemorrhage and perforation. Transmural thermal injury may occur after polypectomy electrocoagulation when the electrical current applied during polypectomy extends into the muscularis propria and serosa, resulting in a transmural burn and localized peritoneal inflammation. Within hours and up to 5 days after the colonoscopic procedure, patients develop localized abdominal pain, peritoneal signs, fever, and leukocytosis without perforation signs (10).
In previous reports, the incidence rate of PPS varied from 0% to 7.6%, with the rate of mostly around 1% (5). According to a multicenter case-control study, hypertension, large lesion size, and non-polypoid configuration of the lesion are independently associated with PPS (6). Patients with larger (>2 cm) sessile polyps, especially in the right side of the colon with the thinness of the colon wall, have a significantly higher tendency for developing PPS following resection (11). In this case, four polyps (one of them larger than 10 mm) were resected by EMR and APC, of which three were on the right side of the colon and were high-risk factors for PPS.
The main clinical manifestations of PPS are localized abdominal pain, abdominal muscle tension, rebound pain, and local peritonitis. Some patients also develop a fever and elevated white blood cell counts.
There were two exceptional findings in our case that should be noted. Firstly, lumbosacral pain was the initial symptom of PPS, which has rarely been reported in previous case reports. Lumbosacral pain was attributed to injury of the posterior colon and the secretion of inflammatory exudate, which stimulated the posterior peritoneum. Secondly, bacteremia and severe infection in this patient with PPS were observed, which have also rarely been reported previously. An earlier prospective study suggested that bacteremia reached a peak soon after endoscopic procedures and then diminished rapidly within the next 30 min (12). Min showed that the incidence of transient bacteremia was approximately 2.5% within 30 min after polypectomy, but none of the patients showed any signs associated with infection (13). In this case, the patient initially had severe lumbosacral pain, high fever, and chills, and rapidly developed septic shock. As Escherichia coli, a representative gut bacterium was detected in the blood culture, and we suggest that bacterial translocation occurred from the gut to the bloodstream when electrocoagulation caused a large transmural lesion, resulting in bacteremia followed by sepsis and septic shock.
The reasons for severe PPS, in this case, are summarized as follows: (I) three of four polyps were on the right side of the colon and were resected in a short period, resulting in a large wound area and intestinal severe mucosal barrier damage; (II) a large laterally spreading polyp was in the posterior wall of the ascending colon near the ileocecum, where the intestinal wall was thinner than other parts. Wound inflammation resulted in increased permeability and bacterial translocation to the posterior peritoneum, which stimulated nerves resulting in sharp pain.
Such patients should be a focus of attention and classified as "high-risk patients." According to a multicenter case-control study, hypertension, large lesion size, and non-polypoid configuration of the lesion are independently associated with PPS (6). Patients with larger (>2 cm) sessile polyps, especially in the right side of the colon with the thinness of the colon wall, have a significantly higher tendency of developing PPS after resection (5).
Therefore, patients with the abovementioned risk factors should be closely monitored. Polypectomy in batches and close observation after surgery should be conducted. When severe abdominal pain or backache occurs, CT examination should be performed as soon as possible to find whether PPS or perforation had developed.
Conservative treatment, including fasting, rest, and intravenous fluids are needed for post-polypectomy patients. However, broad-spectrum antibiotics for Gram-negative bacteria are necessary for "high-risk patients." When severe PPS is diagnosed, high-dose and broad-spectrum antibiotics should be administered at once to control the infection and avoid the development of severe sepsis.
This is a rare and severe PPS case where the patient quickly deteriorated to a critical condition. The patient recovered primarily due to prompt treatment. This case shows that the risk factors for severe PPS and the surgical plan should be considered carefully before colon polypectomy. Patients with high-risk factors for PPS should be hospitalized for observation after polypectomy, and anti-infective prophylaxis should be considered.
---
Acknowledgments
None
---
Footnote
Conflicts of Interest: The authors have no conflicts of interest to declare.
Ethical Statement: The authors are accountable for all aspects of the work in ensuring that questions related to the accuracy or integrity of any part of the work are appropriately investigated and resolved. Written informed consent was obtained from the patient for publication of this manuscript and any accompanying images.
Open Access Statement: This is an Open Access article distributed in accordance with the Creative Commons Attribution-NonCommercial-NoDerivs 4.0 International License (CC BY-NC-ND 4.0), which permits the non-commercial replication and distribution of the article with the strict proviso that no changes or edits are made and the original work is properly cited (including links to both the formal publication through the relevant DOI and the license). See: https://creativecommons.org/licenses/by-nc-nd/4.0/.
---
References
Cite this article as: Zhuang ZF, Ye ZH, Zhong ZS, He GH, Wang J, Huang SP. A case report of a post-polypectomy syndrome with severe sepsis and organ dysfunction. Ann Palliat Med 2020;9(2):488-492. doi: 10.21037/apm.2020.01.01